Crowdlending is the future of loans. It connects borrowers and lenders without needless intermediaries. Take control and allow your clients to originate and finance loans in a flexible and transparent financing process.
Crowdlending is growing rapidly
Crowdlending is loan-based crowdfunding, a way to secure loans through an online platform. It is also known as peer-to-peer lending (P2P), loan-based crowdfunding or social lending.
More and more lenders and borrowers choose it over traditional banking services. Small businesses often have trouble securing the traditional loans they need to grow, while IT entrepreneurs see crowdlending platforms as a good future investment.
Benefits with crowdlending:
Direct connections between lenders and borrowers
Lower interest rates for borrowers
Higher returns for lenders
Less practical and legal issues
Transparent loan process
How does crowdlending work?
Crowdlending bypasses banks and credit institutions. No intermediaries means fewer fees, higher returns and lower interest rates. Investors get together to directly finance a loan through an online crowdlending platform.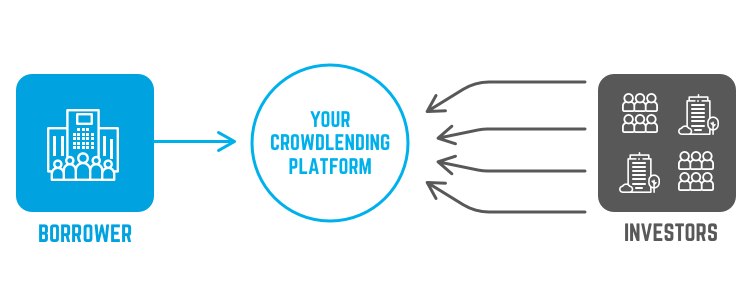 Crowdlending platforms make money through fees. These fees are still significantly smaller than what traditional banks are charging. Interest rates from banks are often very high. Not to mention that many small businesses get their loan applications rejected. A crowdlending platform is a chance for them to find investors that believe in their business idea.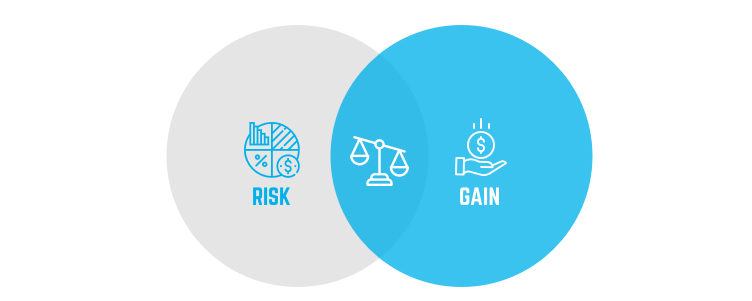 Crowdlending is a balance between risk and gain. Some prefer low risk and low gain, while others prefer high risks/gains or something in between.
Choosing the best crowdlending platform
A crowdlending platform is a software that requires extensive financial knowledge, complex calculations and user-friendly features. When a borrower or lender chooses a crowdlending platform, the decision is usually based on several factors. Investment strategy, currency and geographical diversity are some of the central factors. Many crowdlending platforms are also tailored for specific niches or target groups. No matter the users, a crowdlending platform needs to be functional and easy to use. At the same time it is also a complex FinTech solution that delivers advanced calculations.
If you are looking to establish your own Crowdlending platform, you have arrived at the right address. We work with different types of customers, mostly within real estate and energy, but there are also other kinds of businesses that have chosen us as their crowdlending platform vendor. These experiences mean that our crowdlending platform is highly customizable in order to meet the requirements of each individual client.
What makes a crowdlending platform good?
A crowdlending platform is a complex FinTech system. The platform needs to load quickly on both desktop and mobile. It also needs to be readily available, without disruptions like installation and upgrade processes. A good way to avoid this and make a platform available at all times is using a cloud-based SaaS (Software as a Service) solution.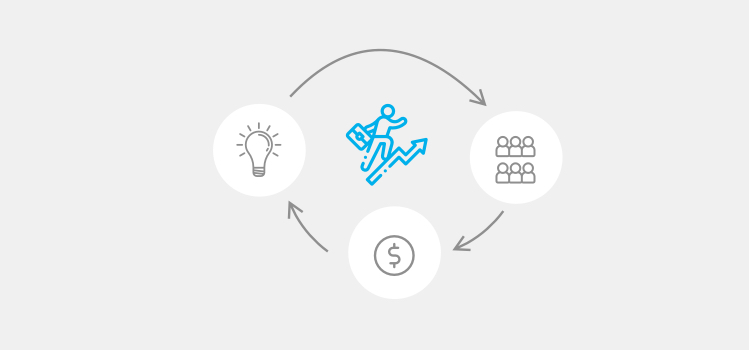 There are many features that can make a platform easier to use. Direct cost and return estimations are an appreciated function in most FinTech systems. Another is easy payments and reporting. On a quality platform all this is tied together on an interactive dashboard.
STAGE11 crowdlending platform
Some main features available on our crowdlending platform:
The integrated Loan Origination and Loan Management System
Electronic, real-time contract generation
Interactive dashboards for borrowers and investors
Cross border investments with direct deposits
Tools for customer due diligence (KYC, Know Your Customer)
Worldwide electronic-ID verification and sign-off
Multilingual platform
Multi-currency payments
Open API connectivity
Automated tax reporting (RegTech)
Loan Origination – with or without?
Most of the major Crowdlending platforms available on the market deal with the funding of existing bank loans. After financing your loan through crowdlending - and paying it back to the bank - you can still make a profit, since crowdlending usually has a lower interest rate.
Our flexible Stage11 Crowdlending platform offers both options: with or without creating loans (Loan origination). When you choose the Loan origination, our system creates and administers everything concerning customer's loan. It supports you with things like online risk management, loan setup, calculating repayments, reporting, and more.
Having your own loan origination is good, since the platform owner gets to keep all the profits from the loan (instead of the bank), and also gets the possibility to set interest rates and other terms. In this case, the banks are only used to execute transactions – they have no impact on the financing process. The downside is that Loan origination requires more administration, but since most of the steps in this process are fully automated in our system, it can be very profitable to choose the full Loan origination package.

Cloud-based SaaS (Software as a Service)
Using our cloud-based SaaS solution means several advantages. The main one is that your 'time to market' (TTM) will be greatly reduced. But that's not the only upside. A cloud-based application means that you don't need to spend your time on local installations and upgrades. It also means that you only pay for using the service, not full ownership of the platform. Integration and scalability are two other advantages, offered as one time cost. Ongoing maintenance will be presented as a recurring monthly fee as long as you are using the platform.
White label crowdlending software
Our crowdlending platform is a white label product. This means that you are free to brand the platform as your own. You can increase your brand visibility while reaping the benefits of our software expertise.