Our crowdinvesting platform combines the two most innovative types of crowd-financing – crowdfunding and crowdlending. It is an online platform that provides a broad range of possibilities to raise money from different groups of investors, without time-consuming administrative work or traditional banking. Our FinTech platform for combined crowdfunding is a game-changer that allows you to improve your business by offering both investment models to your potential clients, who can choose the financing form that meets their short-term or long-term needs. At the same time, it helps entrepreneurs find new capital for their projects in a completely unique manner.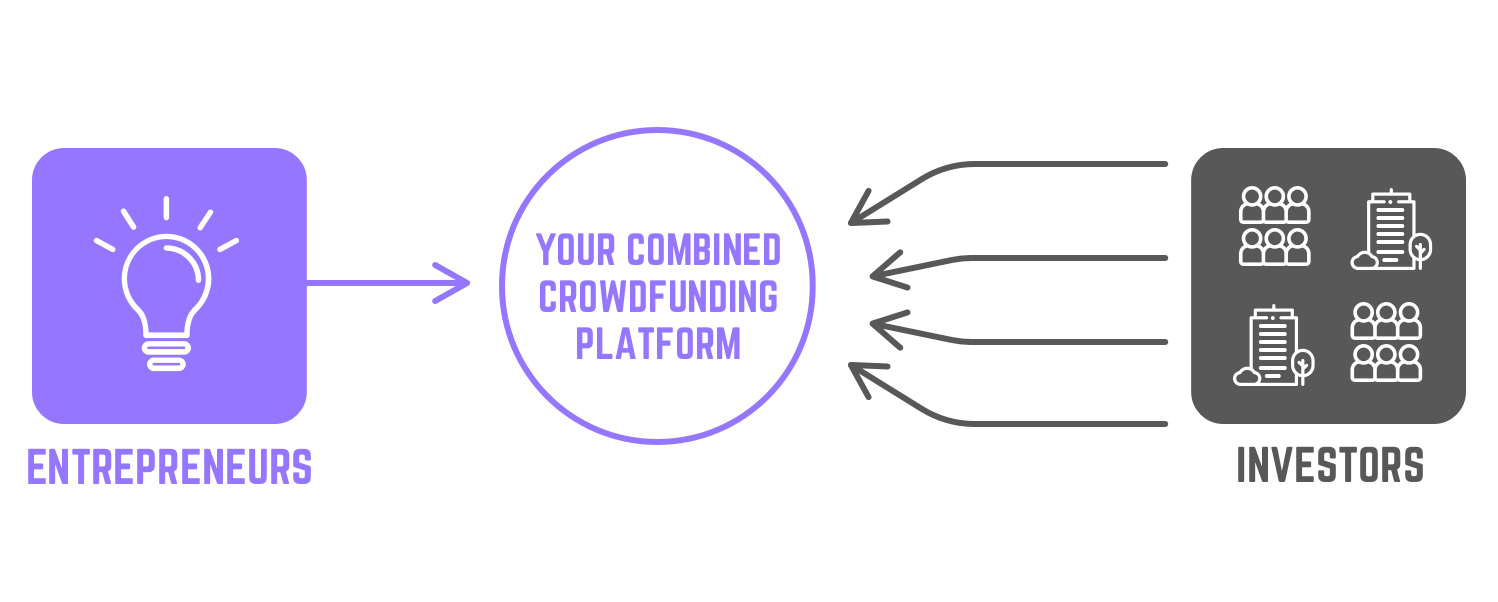 One of the greatest advantages of a combined crowdinvesting platform is freedom of choice. It means that borrowers can ask for a loan in the form of cash, or offer company shares in exchange for an investment. On the other hand, contributors can choose if they want to invest in projects through crowdfunding or crowdlending. Our crowdinvesting platform is suitable for different industries, including real estate, renewable energy projects, transport, and more.
How Does Crowdinvesting Work?
Crowdifunding is a method of raising capital for a project or an online cause. It is an excellent way for entrepreneurs to express their ideas and seek direct funding – either through debt- or equity-based financing. The word "crowd" in the process name means that most crowdfunding capital comes from different groups of contributors. This type of crowd-financing has been growing steadily, and entrepreneurs are looking at crowdfunding platforms as high-potential investments.
Crowdfunding can be either of investment or non-investment character. Investment models are more convenient for funding private businesses compared to non-investment models. Both borrowers and investors benefit from investment models, which take the form of either debt-based (loan-based) or equity-based crowdfunding.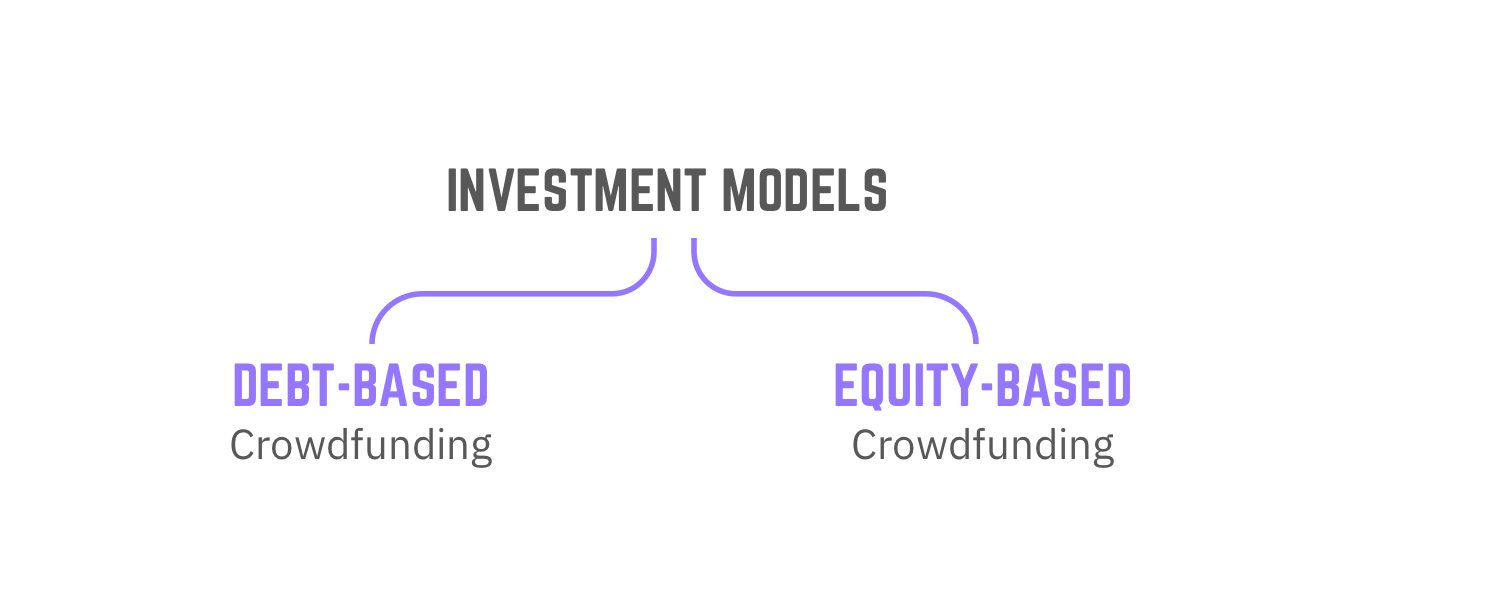 Debt-based or loan-based crowdfunding is the type of crowdfunding where the capital is lent from a number of investors through a platform in exchange for interest. One of the most common forms of debt-based crowdfunding is crowdlending or peer-to-peer lending.
Equity-based crowdfunding includes raising funds from a number of investors to finance a business. In this case, contributors receive shares of the company and can become its part-owners.
Crowdfunding has significantly evolved, which has impacted the creation of different crowdfunding platforms. While most solutions available today may appear similar, their features and quality may vary. So, keep in mind that the right platform can make a difference between success and failure.
Why Combined Crowdinvesting Platform?
Crowdfunding and crowdlending platforms are game-changers for raising capital from different groups of investors. But what about a solution that combines these two crowd-financing models in a single platform?
Stage11 has come up with a unique, all-encompassing Crowdinvesting platform that allows borrowers and investors to choose the financing type and projects that fit their needs. Our combined platform aims to establish a seamless connection between borrowers and investors, ensuring they can find the right financing solution for their business ideas. By developing a unique crowdfunding platform, we remove boundaries set by traditional banking and time-consuming administrative work. Instead of letting you deal with tasks that distract you from your core business, we provide you with an original solution to showcase your personality, increase your brand visibility, and present yourself as a platform owner to large groups of borrowers and investors in a completely innovative manner. By providing your potential clients with the opportunity to choose between two financing models, you can enhance your business operations and stand out from your competitors. In addition, a combined crowdfunding tool is meant to fit entrepreneurs from different industries, helping them accomplish their goals in the long run.
Crowdfunding vs. Crowdlending
Crowdlending is a form of loan-based crowdfunding, which is why these terms often go together. However, there is a significant difference between them. While crowdinvesting helps small and midsize businesses raise money from multiple contributors in exchange for something (equity or interest), crowdlending comes with an additional layer of protection. Namely, in the case of crowdlending, borrowers repay the investors in a certain period of time, based on an agreed loan.
Both SMEs (borrowers) and investors use crowdfunding or crowdlending platforms to place their projects and find the best ways to achieve their goals. Purchasing separate platforms may be expensive and overwhelming for users who want to invest in projects either through crowdinvesting or crowdlending. For that reason, the Stage11 platform for combined crowdfunding may be the right choice for borrowers and investors seeking fruitful opportunities in different campaigns.
Our investment software for combined crowdinvesting features is a technically complex system with a user-friendly interface. The platform is tailored to meet the customer's specific needs by offering different customization options and next-level features for advanced financial operations.
STAGE11 Combined Crowdinvesting Software
Our extensive FinTech experience allows us to create innovative and fully functional cloud-based systems for the financial industry. So, if you are looking for a proven and reliable FinTech provider, Stage11 is the right choice. Our goal is to challenge traditional banking and provide a financial platform that combines the most popular types of crowd-financing while offering a faster, cheaper, and more independent investment flow.
Here is what you can expect from our combined crowdinvesting platform:
Freedom of choice – select the most suitable types of crowd-financing
Interactive dashboards for borrowers and investors
Electronic ID verification (BankID) and sign-off
Cross-border investments
Advanced tools for customer due diligence (KYC – Know Your Customer)
Multi-currency payments on a multilingual platform
Electronic, real-time contract generation
Open API connectivity
The Stage11 platform for combined crowdfunding is available as a cloud-based, software-as-a-service (SaaS) solution. Hosting operations are set close to your company's location and target market.

Benefits of a Cloud-Based SaaS (Software-as-a-Service) Solution
Cloud-based, software-as-a-service (SaaS) solutions open a whole new dimension to your business operations. Besides allowing you to use the application without time-consuming local installations and upgrades, the SaaS model reduces your time-to-market (TTM) and allows you to access the application anytime and anywhere, via a stable internet connection. Another great advantage of the cloud-based, SaaS model is the fact that you pay only for the service, not the ownership of the platform. It means that you will pay a recurring monthly maintenance fee as long as you are using it. Installation and initial customization are a one-time cost.
White-Label Combined Crowdinvesting Platform
Our platform for combined crowdfunding, as well as other FinTech solutions we offer, is white-label. It gives you the freedom to rebrand it, use your own logo, and launch it to the market as your own product. Take advantage of this unique opportunity to increase your brand visibility and harness the technical excellence of our investment software.